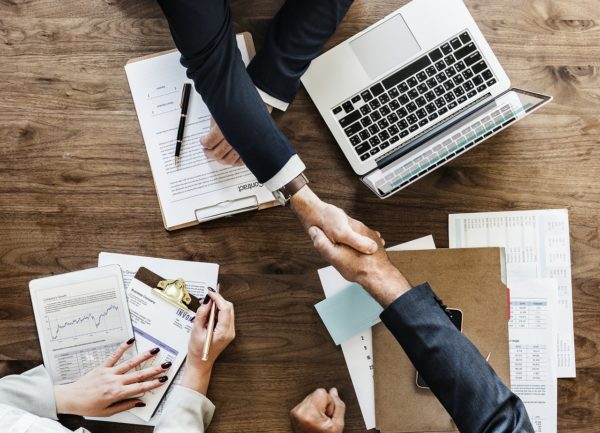 Sharing my experience of attending a talk/discussion on 'How to build the customers before building the product to make it a successful venture' by Prasanth Kothari, Product Manager | FinTech | B2B | SaaS | Quote to Cash, Chargebee. (https://www.linkedin.com/in/prasanth-kothari/)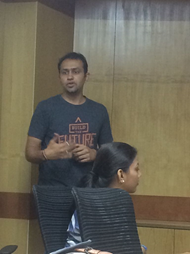 Prasanth Kothari
Reached Facilio office, Perungudi, Chennai at around 11 am, 18th August 2018. It was a compact gathering of about 20 participants. After a round of intro sessions, Prashanth started with, a brief info about Steve Blank (customer development concept), Krik Reese (Leave agile movement), Alex (business model concept).
We then moved on to an activity, wherein we were asked to put in an action plan for a pressing idea which we have
Following were my action plan points
1. Mind mapping / idea bouncing with mentors, friends, family, etc
2. Personal contact
3. Website
4. Social media
5. Developer UI/UX/Design à Sample audience à Testing à Feedback
6. Soft launch / Presales à Feedback à Testing à Upgrade
7. Marketing sales à cold calling à lead generation à institutions à social media
We then discussed about the rise and fall of the company Webvan which was actually considered ahead of its time. Webvan rose to $800 million Company to be Biggest online grocery concept in the 1990s, Automated warehouses, Purchased fleets of delivery trucks, Easy to use website. Webvan which was launched in '90s used the mantra of GBF (get big fast) and invested in the above. Webvan's fall was due to the pricing strategy. It did not match target customers, expected number of customers did not buy and warehouses were built before testing the model. IPO happened in 6 months, 20+ warehouses were started without testing the model, as none of the management team were from supermarket experience. Without testing the model, the company signed a $1 billion contract with Bechtel to build state-of-the-art order fulfillment centers with robots that could help in speeding up the product selection and shipping.
The key take away was to "build customers before building the product"
Below chart for startups failure was discussed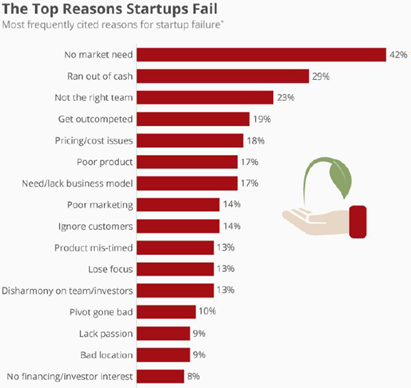 Key factor for failure is "No market need"
Another case study of a company called Ceres Imaging (Agritech) was done.
It's an aerial spectral imagery company. They produce high-resolution multispectral images which are captured via low-flying planes and processed using highly advanced image processing and crop modeling techniques. Their product reveals diseases, parasites, and weeds; points out where irrigation and fertilizer is over or underused; and spots irregular distribution of plants. Farmers use it for field accounting, issue spotting, and week-to-week irrigation and fertilizer management, among other applications
The company initially planned to use their cameras fitted onto drones. For which they were planning to build their own drones with image processing software and proprietary algorithms.
But upon discussing with farmers they realized farmers were more interested in data and not how it is collected, hence a revised model was developed.
Instead of investing in building expensive drones, the camera was fixed onto already existing crop dusters which reduced the infrastructure cost and more importance were given to software development.
From both case studies what was analyzed was that, we need to validate assumptions before building the product and avoid something which no one wants. Build MVP (minimum viable product) which eliminates the complexity in business model. Focus on what is immediate value for customers. Value to the product can be added later when business is scaled.
Other company example of Whatsapp, Pinterest, Airbnb were discussed
Traditional product development is to get the idea à develop the idea à use beta testing à launch to customers. In this model there is no scope for customer feedback
Customer discovery process was then discussed as below –
· Our ideas have to be put down in a big canvas onto a wall with just some sticky notes as we will be correcting it a lot and make the notes visible and then begin to make our hypotheses.
· Since there are no facts, we have to go out and talk to customers, vendors, partners about the process but with a systematic approach of using design, experiments, running tests, getting data and insight.
· By doing this we can check if other people do have same problem as us or not to come up with a solution.
· Are there sufficient buyers with similar problems?
· Are they willing to pay for the solution?
· Who has the power to make or influence in the buying decision of the solution?
· Who will use the product?
· Are the hypotheses and assumptions valid?
After customer discovery, Customer development process was discussed as below :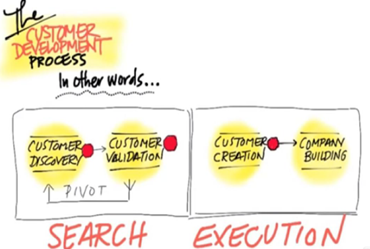 · Customer discovery
· Next step would be customer validation, wherein we can check if the proposed solution actually matches the customer problem. This is product market fit. Like this we can search for the right business model
· The business model pivots based on this customer discovery and product market fit.
· Once the business model is put down successfully, we move onto execution model
· Here we create end user demand and scale which is called customer creation
· We then build the organization for transiting from customer development to functioning organization
· Apart from the above points, we need to setup an affordable loss too in the business model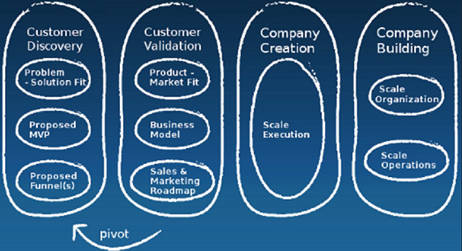 Some key points to understand the customers were also discussed
· Understand the industry vertical/ B2B vs B2C/ team or user who will be using / Demographics/ target geography
· We have to understand who is the key person handling the requirement
· The time they spend on the problem
Some points on how to collect data and insight were discussed as below :
· Record all feedback
· Have an interview questionnaire
· Talk to target customers, meaning customers with similar problems
· And most important, no pitching
Following points on respective topics were discussed on how to approach a customer
Problem discovery — Role play was done with one of the participants who had a food startup idea.
· What's the hardest part of your day?
· What product/feature do you wish you had that doesn't exist yet?
· What tasks take up the most time in your day?
· What could be done to improve your experience?
Problem Validation
· How difficult is the problem now?
· How important it is to the customer?
· Complaints about the problem
· How motivated is the customer to solve the problem
· What it would mean to the customer to have a solution to their problem
Product discovery
· What can be done to solve this problem?
· What would the ideal solution from the different solutions be as discussed above?
· What are they doing currently to solve the problem?
· If there is a solution already in the market, what is their feedback on that?
Product Validation
· What do customers think of the proposed solution?
· Would this product help with solving their problem?
· Would they use this product?
· Would they recommend this product to their friends?
· Would they be willing to pay $ for this solution?
· Will they use the solution right away?
· What might prevent them from using this product?
· What can be improved in the product to service them better?
· What kind of additional $ they be willing to pay for enhancements?
Build the Minimum Viable Product (MVP)
· Understand customer's journey and learn the workflow
· Identify pain points
· Build a simple prototype
· Demonstrate, collect feedback
· Storyboard the ideal use case
Power of Iteration
· Interview > Prioritise & Build > MVP > Demo
· Iterate, Optimise, Repeat.
· No more month long releases
· Plan for 1 or 2 week builds
· Demonstrate to customers
The session ended with a very valuable tag line "Building a product is not easy and don't expect it to be. It's a continual effort in the right direction that will make sure you taste success."
A brief explanation about Chargebee (https://www.chargebee.com/) and their journey was given, followed by Q&A and networking.
It was a wonderful session to learn about the importance of building customers before building the product. Once the customer base is built, the company can be scaled later in terms of org structure, branding, operations, pre-sales, sales, marketing, product enhancement, etc
Except for the initial confusion of finding the location of the building, the whole session went on seamlessly thanks to the efforts of Sahiba Sethi, Community Builder & Founder, hellomeets.com and her team.(https://www.linkedin.com/in/sahibasethifounderhellomeets/)
Abishek Ranganathan,
Co-Founder, theBYTEstory.com
https://www.linkedin.com/in/abishekranganathan/